Wydarzenia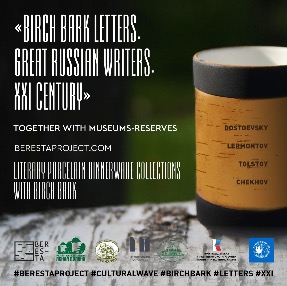 06.12.2021
Birch bark letters of the XXI century with the words of great Russian writers
On the occasion of the 200th anniversary of the birth of Dostoevsky, Berestaproject took a cultural initiative to create a collection of literary phrases by Dostoevsky, Lermontov, Tolstoy and Chekhov on unique porcelain dinnerware with birch bark. The collection of mugs large and small and bowls will be created together with the Dulevsky Porcelain Plant. The initiative was supported by the house-museum of Fedor Dostoevsky as part of the Novgorod Museum-Reserve, the museum-estate of Lev Tolstoy "Yasnaya Polyana", the Lermontovsky Museum-Reserve "Tarkhany", the memorial museum-reserve of Anton Chekhov "Melikhovo".
In Russia, it was customary to write birch bark letters, and therefore it seemed interesting to us to study which words of great Russian classics are not only relevant today, but also look good at modern birch bark tableware. Each museum-reserve will have its own unique painting, stylistically suitable for both the writer's and the birch bark style.
Birch bark is a very unusual material, it is a natural thermal and waterproofing insulator. Therefore, birch bark dishes are functional: filled with hot tea or coffee, it will protect your hands from burning, it can be washed in even in a dishwasher. Messages on birch bark have been preserved for centuries, and using it in everyday life, we not only support the tradition of native Russian fishing, but also create our own family tradition, bring beauty and aesthetics of Russian antiquity to the modern home way.
As part of the project "Birch Bark Letters to the Future. Twenty-first century. The Great Word of Russian Writers " together with museum-reserves, some phrases for the collection have already been selected. You can take part in their final choice: from each writer, the collection will include 10 quotes. We invite you to take a survey from November 15 to December 15, 2021 in social networks and on the Berestaproject website, as well as to compete for a memorable prize. The drawing of collection items for survey participants will be held in the spring of 2022.
Thanks to Rossotrudnichestvo, through the Russian Houses around the world, our compatriots abroad and Russian-speaking foreigners will join the project.
The project is supported by the Presidential Fund for Cultural Initiatives.
#berestaproject #birchbark #culturalwave #letters #XXI #melikhovo #yasnayapolyana #tarkhanу #dostoevsky #chekhov #tolstoy #lermontov